Learn AutoCAD with our Free Tutorials
CADTutor delivers the best free tutorials and articles for AutoCAD, 3ds Max and associated applications along with a friendly forum. If you need to learn AutoCAD, or you want to be more productive, you're in the right place. See our tip of the day to start learning right now!
Free Tutorials and More
The Tutorials section provides over 100 original tutorials for AutoCAD, 3ds Max and other design applications such as Photoshop and Bryce. Michael's Corner is a monthly article that brings you the best up-to-date AutoCAD tips and tricks. The Forums are a lively bulletin board where AutoCAD users can ask questions and get answers. The Download area provides free AutoCAD blocks, free AutoLISP routines and free digital images.
Site News
The AutoCAD Workbench, Final Edition
Fourteen year's worth of Michael's Corner has been completely updated for AutoCAD 2018 and is now available in the form of the AutoCAD Workbench, Final Edition. The book is available in spiral-bound paper or as a PDF. To find out more or to order a copy, visit Michael's CAD Trainer Guy site.
Michael's Corner - October/November 2016
This month's Corner marks the end of an era. I've been running the CADTutor website for 20 years and for the last 14 of those I've been ably assisted in that endeavour by Michael Beall who has consistently provided content of the highest quality. Michael has written almost 600 articles for CADTutor in close to 150 monthly columns. If Autodesk are listening, they should probably give him a medal for services to AutoCAD. I'm constantly surprised and delighted by how generous people are when sharing information, wisdom and experience on the Web and Michael is a prime example of how Tim Berners-Lee hoped people would share their knowledge. Thank you Michael for all you've done for the CADTutor community.
So, for Michael's final corner we have articles on modifying the action of the F1 key, no less than 3 Power Tool articles, including tips on zooming with your mouse, background hatch colours and text frames for Mtext. As always, these articles are designed to help you work smarter, not harder. I hope you find them useful.
CADTutor itself is staying put and we have a few new things planned for 2017, so stay tuned. And don't forget that all of Michael's Corners are still available at CADTutor for your future reference.
Video Tutorials
We've added a new Video Tutorials section to CADTutor! Some of our users have asked for video tutorials in addition to the text-based tutorials already on the site. Check them out and let us know what you think. Also, for those of you who prefer to watch your online video at YouTube, why not visit the CADTutor YouTube channel?
| | | |
| --- | --- | --- |
| A Multi/Sub-Object material is a container for a number of sub-materials. This type of material is used when you need to assign different materials to different parts of an object and is used in infrastructure and environment projects mainly for objects such as benches, tables, lamposts, buildings etc. This tutorial works through a number of examples. | | This tutorial describes a method for creating terrain objects in 3DS using contours from AutoCAD. |
| Last visited: 3 minutes ago | | Last visited: 7 minutes ago |
| How to set up a PostScript Plotter. | | This video tutorial demonstrates how to join lines, polylines and arcs using the Join command and the Edit Polyline command. Running time: 6min 49sec |
| Last visited: 7 minutes ago | | Last visited: 8 minutes ago |
Tip of the Day
Shift + Right-click menu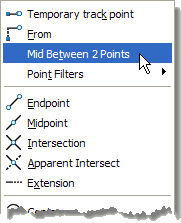 Object snaps are really inportant in AutoCAD and in addition to the running object snaps, many AutoCAD users have the Object Snap toolbar permanently docked on their screen. However, as screen space is often at a premium, you might like to consider accessing the object snaps from the Shift + Right-click menu. If you didn't know about this, you'll find that it's even better than the Object Snap toolbar because it takes up no space and it contains all the object snaps including "Mid Between 2 Points" and the Point Filters.
Missed a Tip?
Did you miss yesterday's tip? Maybe you forgot to drop by or maybe you don't visit over the weekend. If so, you can now see all the tips published during the past week. Also, if you have a tip you'd like to share with us, you can post it on our forum and if we like it, we'll publish it here.